To help our aspiring entrepreneurs and future SETsquared Bristol members, we are showcasing a number of case studies demonstrating the breadth of tech and depth of success in SETsquared Bristol and what it takes to achieve.
We had a chat with One Big Circle Co-Founder and Director, Emily Kent…
What does One Big Circle do?
One Big Circle is a company we created just over a year ago to specialise in scalable, digital video solutions. An example of the work we do is a network of low latency camera systems and hubs that collect traffic data and increase the speed that digital video can be viewed. Our hubs enable data to be captured from multiple cameras, not just CCTV. We also continue to develop My Action Replay, which enables sports venues to capture and replay the action that they want. We've developed and repurposed hardware video solutions for other industries, and are in a strong position to develop specialist intellectual property (IP).
What business have you won so far?
One Big Circle delivered a real-time app for use in the NHS and launched our own digital marketplace app, Beebooked, to enable risk-free, informal skill sharing in the local community. We also have a number of collaborative contracts across sports, transport and IoT.
Happy App was our first client, which is a feedback app for NHS staff to provide instant feedback about their shifts. We won them quickly as they were looking for a tech team to build a solution.  We've also become approved suppliers for blue chip company, Costain, providing expertise on very specific hardware. We're in conversation with another client about creating a bespoke platform and are currently looking for partners for Beebooked.
We're aiming to hone-in on projects that focus on our video experience, making sure we get the marketing and messaging right to make our offering more refined. This will help us in our ambition to create a specialist product in the future.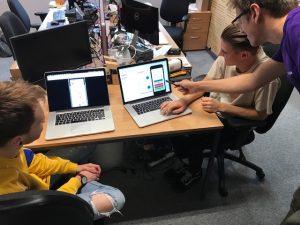 How did you enter SETsquared?
Barnaby Kent, Matt Richards and I began as a 'kitchen table start-up' playing with cameras and Raspberry Pis. The idea centred around whether it was possible to capture your own footage through the press of a button and view again on a tablet or iPhone. We found that we could make it work, but then needed business support to turn it into a product. We received early stage funding for My Action Replay, which allowed us to get 12 hours of mentoring with Greville Commins, Entrepreneur-in-Residence at SETsquared We also received funding from the West of England Growth Fund.
We applied to SETsquared at a very early stage of development. We started as virtual members, then moved into the shared SETsquared office at Engine Shed. We developed the business through bootstrapping and commercial clients, and then grew the team enough to take on our own office at the incubator.
In late 2016, we were at the point of needing funding, when we started talking to New Zealand digital sport platform, CricHQ, which led to them acquiring My Action Replay.
How has SSQ helped you?
The business mentoring and coaching has been really valuable; Greville Commins was our mentor.  We took advantage of the workshops and events programme as well as the Advisor-in-Residence sessions. It's also been great meeting other SETsquared members and getting peer-to-peer support.
Being at SETsquared gave the business a sense of credibility, as it is membership only. It was great to be accredited with SETsquared backing – this particularly helped in the acquisition. Less than a year after selling the business, CricHQ unexpectedly went into receivership, at which point we didn't know where we stood as a business. As a UK entity, we kept some control. SETsquared were supportive when we were suddenly un-able to pay rent, which would have been much harder if we were in a commercial property.
How did you deal with your acquirer going into receivership, and what spurred you on to set up One Big Circle?
On hearing about the sudden developments in New Zealand, we were forced into action to rescue our own business, or face the loss of all equity with potential legal liability for unpaid bills. We decided to start the business again as One Big Circle, and stayed in the same office at SETsquared.  We could have walked away and found different jobs, but we wanted to keep our expertise together. SETsquared gave us support to continue, and we found the energy to start the journey again.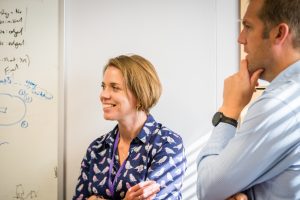 Tell us about One Big Circle's expansion since you set up at the end of 2017.
Our journey has been an unusual process, we haven't followed any formula – success looks different for every company. There are a range of pathways to success and growth. Our ambition is for One Big Circle to be sustainable, and to build up our own runway and spread the risk a bit more, rather than being reliant on investment.
We took on an apprentice and a trainee within the first few weeks of starting the business. Within six months the team had doubled to eight people. Part of our growth plan is to bring on early stage talent and to train in house, building a company that will grow with us. Now our ambition is to scale again. We are about to recruit within business development and sales/marketing, and get everything in place now, so it's easier to scale.
As One Big Circle expanded, it was easier to physically grow the business being based at SETsquared. It was a seamless transition every time we grew the team and moved into a larger office. We're now in our third office space at SETsquared, and are about to take on a much larger space downstairs at Engine Shed. We need to have more space per person for testing and demo benches, a workshop type space, as we're focussing on developing the hardware. It's important for us to create an inclusive company culture, ensuring that we actively recruit a diverse workforce, with a focus on work-life balance. We're currently working with community organisations, such as Ashley Community Housing creating placements for refugees to experience working in tech, and are looking into the EMI Scheme for staff share options.
Have you received any awards/accreditations?
My Action Replay was a finalist in the Amazon Growing Businesses awards in 2016. In 2017, we were named in the SETsquared Partnership's Top 50 in 15 as one of the 10 ones to watch. My Action Replay and CricHQ were finalists in the Sports Technology Awards in 2017. One Big Circle are in now a good position to start applying for awards and accreditations.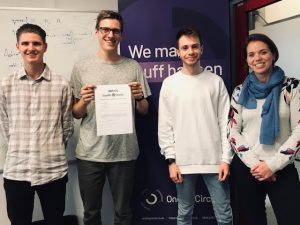 Who is in your team?
One Big Circle has four founders: Barnaby Kent, Sam Low, Ian Packer and myself. Ian and Sam both started working at My Action Replay in their spare time, and came on board full time when we were acquired by CricHQ.
Previously Barn worked in an intelligent transport technology company and I worked in marketing for St Peters Hospice. Sam and Ian have backgrounds in software engineering. We combined our different skills, to make the business work around us.
What's next for the business?
We're about to move into a new office at Engine Shed, and progress to SETsquared Alumni membership. We've been working on winning more projects, and developing client products, whilst focussing on the intellectual property (IP) that we're going to develop. We intend to scale-up when we find that right product, which will tie in well with the SETsquared Partnership's Scale Up Programme and University of Bristol's research opportunities. We're also investing internally on business development and finding partners and collaborators.
Whilst growing the business and expanding the team, it's important for us to grow our own culture and recruit diversely. The more diverse a business is, the more sustainable it becomes. I am passionate about the rise of women in tech and try to do as many panels, community events, and school visits as possible to talk about this subject. I'm pleased to be on the panel for Dot Project's Tech for Good event in a few weeks.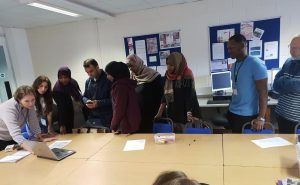 What advice you can give to young women who are interested in a tech career?
Tech and entrepreneurism can feel intimidating sometimes. I wish I could have told myself it's not intimidating when I was 20. It's something that we can all use, and you'll learn as you go. Business ideas and solutions can sometimes be more important, and the tech can be built around them. If you only have the technology, all the other stuff wouldn't work. It's not always about emerging tech, but sustainable tech, and repurposing people's skills to use it.
You don't have to feel like the complete entrepreneurial package to get started. You don't need formal training or take a traditional route into a tech career. There are so many avenues you can go down and ways to start a business.  I did a sociology degree, and later, account handling for a direct marketing house. My maternity break coincided with technology changing rapidly, and becoming less formulaic, so it was then that I took the step to becoming a tech entrepreneur.
Discover more of the companies SETsquared incubate here and sign up to the monthly SETsquared newsletter to keep up with news, events, opportunities and more.
Recent News, Blogs and Stories
Fast track your technology business