To help our aspiring entrepreneurs and future SETsquared Bristol members, we are showcasing a number of case studies demonstrating the breadth of tech and depth of success in SETsquared Bristol and what it takes to achieve.
Our Alumnus YellowDog is one of the South West of England's hottest scale-ups.
We had a chat with YellowDog Founder and CEO, Gareth Williams…
Who is YellowDog?
YellowDog is creating a world where people can do more, create more, explore more; unleashed from limited computing power. YellowDog helps customers to securely access underutilised power that already exists in their organisation whilst simultaneously enabling burst to cloud. This means that complex batch processes such as 3D rendering for Media and Entertainment or risk modelling for Financial Services can be finished more quickly and more cost effectively.
How did you join the SETsquared programme?
When I decided that I was going to start a new business, I knew that sources of support and networks would be incredibly valuable. During my research about starting a business in Bristol, I came across SETsquared and Webstart. SETsquared had big ambitions, so after I had read about it, I had a chat with Nick Sturge, the SETsquared Director at the time, and applied.
I got rejected the first time around. I focussed too heavily on the solution instead of the problem and not the other way round.  I was given some great feedback, which helped me to shape my next – thankfully successful – application.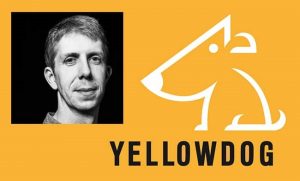 What was the most impactful support you received from SETsquared?
Our business would be significantly worse off today had it not been for the guidance we received from the SETsquared Bristol team. That's partly down to the advice and suggestions on where to seek funding, and partly down to helping us to understand all those things you didn't know you didn't know.
As with most things in life, you get out what you put in with SETsquared; from the Business Review Panels to the Founders' Forum and the ad hoc peer support. I believe the founders who are willing to engage get a lot out of it.
The programme has a series of workshops to help you understand what you need to do. Simon, our CTO, and I, treated the Business Review Panels like board meetings: preparing thoroughly for them. There's also on-going support from the Entrepreneurs-in-Residence, who can be a shoulder to cry on or a use their well-honed stick to poke you if you need it.
How did you benefit from working in SETsquared Bristol's office space?
I started off as a virtual member using my loft at home as an office. It can be lonely sitting at home so I quickly moved into the pre-incubation shared desk area where there were other very early stage founders working hard. When you start getting bigger, you can then move into private offices, and, as you move, it helps reinforce the feeling that you're moving onto the next state of your journey.
Engine Shed itself is a good location for SETsquared. The fact it is such a hub for the start-up and scale-up community in Bristol means that its location itself brings a lot to the value of working at SETsquared: the random collisions that you get between businesses and companies who either operate or pass through there on a daily basis.
There was a diverse range of businesses that we worked alongside at Engine Shed but they mainly had a similar attitude to us, which was also motivating.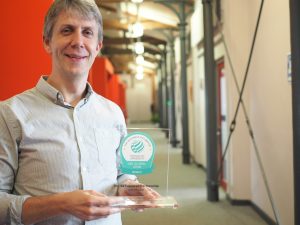 What business have you acquired so far?
The biggest market that we've been selling into for the last couple of years is media and entertainment, specifically animation, visual effects, and visualisation studios. We've been helping them to render computer generated imagery (CGI) faster than ever before. We launched our offering for Financial Services in March of this year and will have our first paying customers in that market imminently.
Who is currently on your team?
The team has grown from one person three years ago to 24 people today. Essentially we are ½ tech, 1/3 sales and marketing, and the rest is admin.
What awards and accreditations have you received?
The ones that I am particularly proud of are the Oracle Excellence in Innovation Award in 2016, the 2017 Start-Up of the Year Award from Bristol Post, Bristol Life's 2017 Innovation of the Year, and this year the National New Business Awards' Business Innovation of the Year. We have developed from pure global technology, to local recognition, to national recognition. I want YellowDog to be on 'The best companies to work for' list. And not just the best start-ups to work for, but the overall top 10. It's a good barometer of how you're doing.
What has been your experience so far as SETsquared Alumni?
It's too early to tell as we only graduated a month or so ago. We are still invited to events, but the first thing for us will be the SETsquared Scale Up Programme. I hope to make the most of the continued networking opportunities and find help with more funding when we need to scale on the next part of our journey.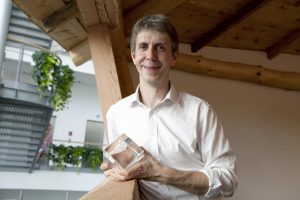 What investments have you received?
So far, £2.8 million. The first crowdfund was a direct result of Nick Sturge (Director of Engine Shed) suggesting we should give it a go. Since then we've had two Angel rounds: the first was a direct consequence of a pitching event at Engine Shed, and the second was through Bristol Private Equity Club, and some VC investment in 2017.
Do you feel you have used your experience and knowledge from SETsquared to help others?
Yes! I have referred people on to SETsquared, Monika Radclyffe, SETsquared Bristol Centre Director, and Nick Sturge, Director of Engine Shed, and have talked about how useful and positive it has been for us.
Nick talks about 'feeding forward': actively helping people and making the time to sit down and talk to people. It's good to do because they might be able to help you in the future, and also because there certainly is a lot we have learned over the past three years that we can share with others.
What are your next steps and growth aspirations?
World domination!
We are currently exploring options for setting up a team in the US and starting to scale out in Financial Services. There's also interest in our technology now coming from aerospace companies.
What are your key take-aways from your time in the SETsquared programme?
Starting a business is hard. Starting a business on your own is harder. If you're thinking of starting a high-growth potential business then SETsquared is the best place to begin.
Discover more of the companies SETsquared incubate here
Fast track your technology business