To help our aspiring entrepreneurs and future SETsquared Bristol members, we are showcasing a number of case studies demonstrating the breadth of tech and depth of success in SETsquared Bristol and what it takes to achieve. Interactive Scientific (iSci) is a growing Bristol based start up that has develped a multi-platform interface for exploring real-time molecular simulations. We had a chat with Interactive Scientific CEO, Becky Sage…
What is your idea/product?
Our primary technology is Nano Simbox. This is an immersive digital platform which allows you to visualise and interact with the scientific world. We put molecules into students' and researchers hands so they  can see and manipulate atoms and molecules. Initially, we have developed this for the education sector, however recently we've received a lot of interest from chemistry R&D, in particular the pharmaceutical sector.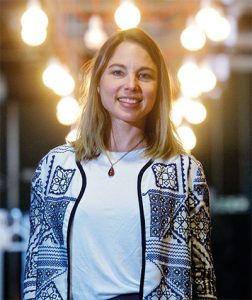 How has SETsquared Bristol (SSBr) helped Interactive Scientific?
We've been members for around 2 years as a team.
Personally speaking, being around peers was the first benefit I felt as a CEO within our team of founders, I had the single responsibility for commercial activities and fundraising, and sharing with other tech founders was strengthening. Working with the Entrepreneurs in Residence and the mentors, in particular Rick Chapman (who is now our Chairman), has been game changing. They've helped to open me up in a way to be naturally confident to do my job in my own style, which I had struggled with previously. This has enabled me to tackle things I've known all along that may have needed to improve or change, and to have the confidence to step up and do that. You need to have that confidence and support, because the stakes are high, you are often risking a lot. It's been about being supported to that amount, so you can do things that are right for your business, with safety around you.
For Interactive Scientific, being part of SETsquared Bristol has meant being part of a thriving  community, with people championing each other, making connections and being supportive. It gives both me and  iSci a platform with gravitas; otherwise we are a small face in the big crowd.
With the first two months, I entered SSBr's Tech-Xpo pitching competition and won it, which meant I became immediately recognised by the SETsquared community. Through that, I met a leadership coach, who is passionate about female empowerment. Her coaching of me and some of my team members has been life changing.
What business have you won so far?
At this stage, we are pre-revenue, however we have received income through projects and we have been grant funded until recently. We've had a nice number of projects that were more consultancy in delivery and we could have done more. But in order to be high growth, we have paused that to consolidate and build the product, and embarked on the investment track. SSBr is guiding us as we progress. That said, we currently have 40 schools who have paid to beta test our product, and collaborations with some of the most highly renowned universities.
Who is in your team?
We are 12 overall, so quite a big team. Within the day to day team there is me and my fellow Director Phil Tew (CTO), and then we have a cross section of people from UX/UI designers, front end and back end developers, a computational chemist, sales team, and those that can specialise in pharmaceuticals and education projects – so we have experts across breadth of different things.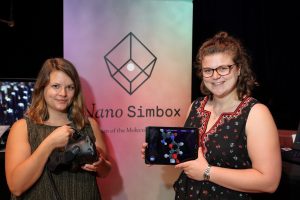 What awards/accreditations do you have?
We've got a few. We've just won a Sparkie award from TechSpark UK for our VR/AR work, and we've just had a feature published in Science Advances about VR in research environments. As mentioned, we won Best Elevator Pitch at SSBr's 2016 Tech-Xpo event, and I won a Women in Innovation award (which provided us with a nice £50k), and we've been a WISE award finalist for tech start ups. We also won a  UK Media Innovation Award and UK National Research Engagement Award.
How much investment have you raised?
We have closed a Seed round and we are aiming for a Series A round at the end of 2018. To date we have had £1.3m from a mixture of sources.
How did you enter SSBr?
I knew about it already, I worked with the Regional Development Agency in 2008 which was when I first came across it through Nick Sturge (Engine Shed Director) and Rick Chapman (SSBr Entrepreneur in Residence), and a number of people involved. It was important for me to move down a commercial track and be surrounded by like-minded business people, as our founding team comprised a technical expert and an academic. It also provided some anchoring.  We got accepted first time when Monika (SSBr Director) was just starting and although I was nervous prepping for it, the process was very supportive thereafter.
You are members of SSBr and Oracle's Accelerator programme
Working with both organisations has been good. We had already been with SSBr for 18 months before Oracle came along, and we had actually tailed off in terms of engaging with activities in SSBr; partly because we were not based in the incubator. Being based here in Oracle's space which is housed in Engine Shed, the same building as SSBr, has meant the whole team has had more direct access to support from SSBr including workshops and peer to peer events. It's been incredibly helpful to be in the centre of all the action. As the desks in Oracle come as part of the package, we were able to afford to get a small office at SSBr as well.
From the Oracle support point, their engineers have been working with ours to ensure we have a mature cloud architecture ready for scale, on the customer facing side we've started to get introductions and our profile is being raised. I guess you could say we get 'bread and butter' and bespoke business support from SSBr and specialist cloud, PR and customer connection support from Oracle.
What are your next steps?
I'm now focused on raising the next round, which will come off the back of this summers' strategic work. It's the most excited I've ever been, as I finally feel like we have got all the right ingredients together for the first time. Our tech is at a good standard, we've got our connections into markets, our team is looking strong and our products are tailored for specific needs with a much better understanding of our customers. We know what good looks like and we are close to getting there. No journeys are the same for start-ups. There is an understanding that as a team we are more comfortable; we don't have all the answers right now, but we are working towards it.
As for the rest of this year, we are building our advisory board and launching version one of our education product. In addition, we are kicking off a series of pilot studies with pharmaceuticals and universities around the world, working with stakeholders very closely. On top of that we are setting our strategy now i.e. how much push into project or heighten some research. All of this takes strong leadership, supported by having the right people around you.
Discover more of the companies SETsquared incubate here
Fast track your technology business