SETsquared Bristol ventures have celebrated an influx of accolades this awards season, with nine companies bringing home 16 prizes in just two weeks!
At TechSPARK's SPARKies Awards, which were held in Bristol on 21st June, SETsquared ventures stole the show with six winners across nine awards. Interactive Scientific took home 'Most Exemplary use of Virtual or Mixed Reality', Duel won 'Best Digital Marketing Campaign', and Ultrahaptics added to their ever-expanding trophy cabinet with the enviable 'Best place to work in tech' accolade.
But it didn't stop there. Three SETsquared ventures scored two SPARKies each! Immersive Labs won Best Scaleup, and the 'Totally Killing It' award, which recognises the company judges believe to have really made the most of the last 12-months, increasing turnover, expanding, making an impact, and capitalising on their successes.
Metasonics scooped 'The Hard Award' for hardware, components, and devices, and the 'Most Innovative Use of Tech' for its technology that dynamically shapes and sculpts sound waves in real-time.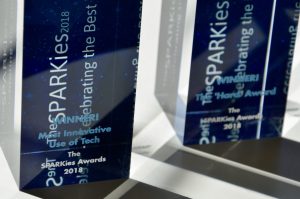 Meanwhile, Gapsquare and its founder, Zara Nanu, picked up the 'Good Award' for best use of tech doing good, and the 'Founder/Entrepreneur of the Year' award, respectively.
And the awards kept coming in July, with YellowDog, who also made the SPARKies shortlist, and have recently won commendations from the National Technology Awards and the Institute of Directors South West, picking up two awards in one day. On 29th June they scooped both the Best Business Innovation award at the inaugural Best New Business Awards, and the Executive Foundation's CEO Members' Award.
Lisa Matthews, Founder of HellyHolly, was recognised as one of the Top 50 Women in Engineering, and Ultrahaptics had yet more cause for celebration at The Europas on 3rd July, where they were awarded 'Hottest Technology Innovation,' with one judge commenting:
"Just wave your hand and you too can become a Jedi Knight with this amazing technology, which will probably end up in our homes and cars."
And if that wasn't enough, the 2018 South West 42 Under 42 Business Awards, now in its tenth year of showcasing the best and brightest up and coming entrepreneurs in the region, awarded three of its four awards to SETsquared ventures on 4th July.
Dr Harry Destecroix of Ziylo and Unit DX scooped the Innovation Award, David Nicholson and Hannah Morden of Living DNA picked up the International Trade Award, and Gapsquare's Zara Nanu won again, with the Social Impact Award, recognising the company's 'truly disruptive credentials.'
Interested in applying to SETsquared? Find out more here
Fast track your technology business