A startup that is revolutionising stroke rehabilitation has won Best Elevator Pitch at our Tech-Xpo 2023 showcase on Wednesday 28 June at Bristol Harbour Hotel.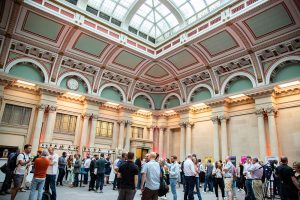 Caz Icke's startup, Solesense uses shoe sensors and a real-time biofeedback application to provide personalised digital physiotherapy to stroke patients.
Founded in 2019, SoleSense was conceived by Caz's own experience as a specialist neurorehabilitation physio working with stroke patients. She found that the national average for NHS physiotherapy provision is nowhere near enough to give the 100,000 stroke survivors per year in the UK the rehabilitation time they need.
SoleSense can be used as an adjunct for clinicians and individuals alike and is designed to enable patients to do more independent rehabilitation. Patients can wear the insoles continuously to improve performance in balance and walking, enabling them to track their own progress and set collaborative goals with their therapist.
The startup joined our incubation programme in 2022 to join a community of healthtech and tech startups and to get support with fundraising. Prior to this, Caz was a recipient of SETsquared Bristol's Enterprising Women, a business support programme fully funded by NatWest.
Now in its 19th year, Tech-Xpo is our flagship annual showcase where selected companies exhibit and pitch in front of an audience of over 100 investors and business movers and shakers.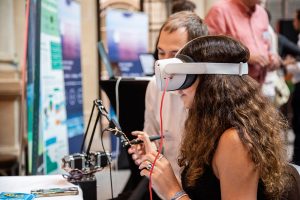 Previous Tech-Xpo winners have gone on to achieve notable success. Ferryx, the 2021 winner, closed its first investment round of £300k shortly afterwards and has since launched its gut health supplement, Ferrocalm. KETS Quantum Security, the 2020 winner, has raised £3.1 million pre-series A to pioneer quantum encryption on a chip, and last year's winner, Inclued, has seen its CEO and Founder Joyann Boyce named 30 under 30 by Rife Magazine and Change Maker by BIMA100 in the same year as winning Tech-Xpo. 
Caz Icke, SoleSense Director said: "It was a great pleasure to take part in Tech-Xpo; the warm atmosphere and friendly camaraderie made it easy to relax and enjoy the moment, with winning the icing on the cake! It is always great to receive such a boost on a journey that can be pretty challenging, especially as a sole founder. SETsquared has given me brilliant support and I'm really looking forward to the next stage of raising funds to grow the business."
Kimberley Brook, SETsquared Bristol's Director, said: "SoleSense was a very popular choice at Tech-Xpo, which was no mean feat considering the exceptional line-up of talent and pitching prowess on show. Caz is one of Bristol's leading female clinical entrepreneurs, has won prestigious grants and has a bright future."
Tech-Xpo 2023 was generously sponsored by VWV and Bristol Innovations, demonstrating their commitment to supporting regional tech innovation.
The other companies showcasing at Tech-Xpo 2023 were:
AI Simulator is a one-stop-shop for anyone looking to learn the art of early-stage investing and fundraising. 
Alo Mundus is a platform that connects urban nature projects with businesses to help them fund initiatives that align with their values and objectives. 
DRIFT Energy is the world's first mobile class of renewable energy creating green hydrogen at sea and distributing it globally. 
Ferryx develops natural bacterial products capable of functioning during active disease, which can be developed as food supplements or prescription therapeutics.
Gritty Talent is a tech-driven talent company, building talent value-chain products that support thriving and diverse workforces in the digital age. 
Infinifty is an e-commerce solution ready for web3 that allows creators and brands to bundle their brilliance into secure, authentic, collectible capsules.
Moropo is a no-code automated testing platform for mobile apps. It provides everything you need to record test flows, replay them across real devices and review the results. 
myCopilot.ai is a pro-active AI Assistant for ADHD, compassionately transforming its users' moments of need into opportunities to choose the life they really want.  
Rosa Biotech aims to transform the diagnosis and monitoring of patients with chronic disease to significantly enhance outcomes by enabling earlier intervention. 
RouteZero is a climatetech company which takes aim at Europe's largest source of emissions: travel and transport. 
Senmag Robotics is on a mission to democratise the sense of touch, with its user-friendly, affordable and high-fidelity force feedback device. 
Shelf Conscious provides the toolkit brands that retailers need to efficiently monitor and optimise their digital shelf. 
Siloton is developing a personal eye scanner that is portable, inexpensive, and highly scalable leveraging a technology called integrated photonics. 
Supersmith has developed an affordable, self-stabilising three-wheel mobility scooter that leans into corners and remains perfectly level on uneven ground and cambers. 
Wilder Sensing helps investors, land managers and ecologists quantify changes to biodiversity using commercially available audio sensors and AI. 
Fast track your technology business