Condense raise $4.5M and open world's first studio for streaming live events into the metaverse
Condense – the world's first company to deliver the power, connection and immersiveness of live, real-world events into the metaverse – has raised a $4.5 million round led by LocalGlobe, 7percent Ventures and Deeptech Labs alongside angel investors.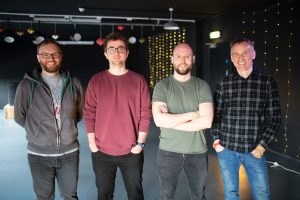 Condense was founded in 2019 and joined SETsquared Bristol in March 2021. It is the only company in the world with the end-to-end capture and streaming technology to live stream real-world events like music and sports events into 3D applications. The company uses cutting-edge computer vision, machine learning and proprietary streaming infrastructure to capture and embed live 3D video (Video 3.0) into any metaverse game, mobile app or platform created with Unity or Unreal Engine.
This means true-to-life live performances can be streamed directly into the virtual worlds and games platforms used by billions of people worldwide – without the need for VR headsets. Because the events are streamed live as three-dimensional "real-world" video, every player's perspective is as unique and dynamic as if they were at a physical live event – and their experience just as memorable.
In addition to the funding announcement, Condense has also opened the world's first metaverse studio in partnership with Bristol's Watershed to give established artists and emerging talent access to the technology. The studio is a "metaverse-first" event space, and can also accommodate a live audience.
With Condense, broadcasting live in three-dimensions to the metaverse is as natural and easy as performing in front of a conventional camera, with no need for green screens or post-production, allowing for an immediate connection with the audience in real-time.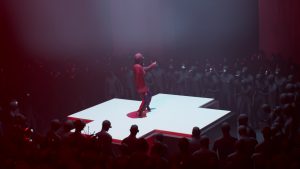 Bristol-based vocalist and producer Grove, who was among the first artists to pioneer Condense technology, said:
"The minds behind the technology are pushing the boundaries of tech-informed performance sharing. This is great for accessibility and opens up exciting new opportunities for fans to connect with their favourite artists."
Video 3.0 gives fans completely new experiences online. Audiences can attend gigs or sporting events with friends, with the freedom to move among the virtual crowds and get up close to the action. Because performances are live, fans can interact with the artist – a digital step forward from holding a banner at a gig – and artists can respond in real-time, giving shout-outs, answering questions or performing a requested track.
Condense harnesses the feelings of connection you get from seeing your favourite band, artist, team or sports star perform live, while introducing an unprecedented level of access, participation and inclusion never before seen – all while providing artists, rights holders and metaverse platforms the opportunity to create completely new revenue streams.
Ziv Reichert, partner at LocalGlobe (recently ranked the UK's number one seed investor by Dealroom) said:
"Hundreds of millions of people are hanging out in immersive 3D platforms like Roblox, Rec Room, Fortnite, Sandbox, Decentraland and VRChat; attending virtual events, socialising and being creative. At the same time, player demand for live entertainment inside these virtual worlds has never been greater. Condense has built the infrastructure to connect the two – now music artists, sports stars and creatives can perform and play live in the metaverse, to the largest stadium audience imaginable."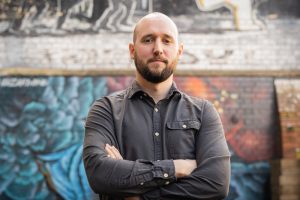 Condense CEO and Co-founder, Nick Fellingham said:
"The Bristol scene has long been a world-renowned melting pot of different cultures and music and, in the last few years, it's become a hub for games development too. Now we're going to put Bristol on the map once again with the world's first metaverse live streaming studio to bring together the energy of live events with the massive scale of the metaverse.
The Video 3.0 infrastructure we've built takes out the technical complexity of streaming live into the metaverse, so people are free to put their creativity in. Video 3.0 is going to change not just how we experience live events online, but fundamentally how we engage with each other."
Fast track your technology business