As part of a series of startup advice features with our Entrepreneurs in Residence (EiRs), we had a chat with Olivia Champion to hear her top tips for startups.
Our EiRs work with our members to provide support, advice and recommendations drawn from their own entrepreneurial backgrounds and specialist experience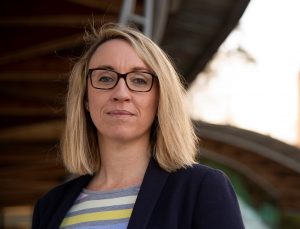 In what ways does your own professional background help you to advise companies?
After working as a research scientist for twenty years in Europe and North America, in the field of infectious disease, I commercialised my own academic research. As founder and CEO I was instrumental in the transition from business idea to bringing the company to profit in three years. In 2018 I founded an Agritech startup company. I have pitched for and won private investment and have been the project lead, project manager, and a consortium partner on multiple grant funded projects.
During my career I've published over 25 peer reviewed research articles, six book chapters and I'm a named inventor on four patents. I've supervised two PhD students and I'm a current Nuffield Farming Scholar.
My career has been forged against a background of three career breaks for maternity leave and ongoing caring responsibilities. I understand the challenges that founders face when juggling home and work duties.
In 2018 I was named a top UK entrepreneur by SETsquared, an honour celebrated at the House of Commons and I have given a TedX talk about my work and motivations. I've also been an invited speaker at numerous national and international events including BioIntegrates, Westminster Insights and the Foundation for Science and Technology Future Leaders programme.
I'm also passionate about supporting others on their entrepreneurial journeys. I was an entrepreneur in Residence for the University of Exeter 2017-2018, mentor on the Innovation Workout and Entrepreneurs Workout programmes for SETsquared Bath in 2021 and joined SETsquared Bristol as Entrepreneur in Residence in 2021.
I draw on my own experience of translating technology into a business proposition, combined with the common business challenges faced by startup companies that I've supported with to advise the companies that I work with today.
What characteristics make a great business leader?
Creativity is a key characteristic of great business leaders. This may sound counter intuitive but the best business leaders use imagination and creativity to develop strategies and lead teams to drive a business forward in a complex and ever-changing world.
Great business leaders are decisive. They assess the information and rather than go into analysis paralysis, unable to settle on a path forward, they decide on the way forward and lead the team on that journey.
Using self-awareness great business leaders understand their strengths and weaknesses to ensure they build a balanced team to put the company in the strongest position.
Underlying all of the other characteristics is integrity; great business leaders are honest and have strong moral principles to build a high level of trust with the team, customers, investors, partners and other stakeholders.
What are the most important skills that a startup founder should learn?
Business is all about relationships so founders should work on developing their people skills. At the start of your journey this may be your relationship with your business partner or co-founder, relationships with investors, your first and subsequent employees, your customers or relationships with key partners.
Always be respectful. If someone has an opposing view to you take time to listen and try understand their view point. Listen more than you talk. If someone provides feedback about your business idea that you don't like, listen carefully to what they are saying, don't be defensive! Take what they're saying on board and learn from it. Establish long term relationships and in negotiations seek win win outcomes. If you screw someone over to win but they feel they have been unfairly treated, the chances are they won't work with you again.
Could you share your top piece of advice for entrepreneurs?
My advice would be to instigate positive change; there are so many problems in the world, you have an opportunity to be part of the solution, not part of the problem. Once you have identified a problem for which you have a solution get a grip on the numbers as soon as possible. Many entrepreneurs don't come from a finance background and developing a financial model is often a challenge. However, it's really important to get a grip on the numbers at an early stage to understand whether your idea is a viable business proposition.
Developing a robust financial model and forecasts requires an understanding of the markets that you will sell into, how much of the market you believe you can access and pricing. The research that you carry out to build the financial model will provide you with insight into competitors and therefore highlight some of the risks. It will make you consider your business model and labour requirements. If you develop an ambitious financial model that you believe yourself and can justify to investors the business plan will write itself!
How can entrepreneurs avoid burn out?
Think about your wellbeing from a holistic view point to not only avoid burnout but stay in top condition to give your business the best chance of success. There are different elements to wellbeing; resilience incorporates self-awareness and regulation of emotions. Consider whether your work is aligned with your core values. The entrepreneurial journey has extreme highs and lows and being able regulate emotions and keep some perspective will support wellbeing.
It's widely recognised that entrepreneurs work relentlessly. Think about your workload and workplace relationships and decide how best to manage these to be most effective.  Consider your lifestyle; are you getting enough exercise and sleep? Do you eat healthy meals? Are you drinking too much or have you picked up other unhealthy habits? Be honest with yourself, address the issues and get into good routines. Build yourself a strong support network that you trust and listen to them.
Why should startups consider joining a business incubator?
In my previous answers I've highlighted the fact that business is all about people. At a business incubator founders will be surrounded by like-minded people who can act as a support network. Business incubators provide access to training courses so entrepreneurs can up-skill in areas where they have gaps in their business knowledge. There is also the opportunity to be introduced to investors when the time is right. At SETsquared Bristol's incubator founding teams have regular access to four highly accomplished Entrepreneurs in Residence, Advisers in Residence and the incubator ecosystem of talent. By joining a business incubator a startup founder is putting themselves and their business in the strongest position to thrive.
What trends can we expect to see in the next five years?
There are so many problems in the world and the bigger the problem, the more pressing the need for innovative solutions. Climate change is a global problem that humans face and incorporates a whole range of topics ranging from energy sources to food security and refugees and so the trends we can expect to see in the coming years will be focussed around tackling climate change. This ranges from alternative energy sources, innovative solutions to reduce carbon emissions in all industries and agritech innovations. This is reflected in the grants that many funding bodies are offering to drive R&D and innovation in these areas.
EiR sessions with Olivia are part of SETsquared Bristol membership. Find out about joining us. 
Recent News, Blogs and Stories
Fast track your technology business