We are thrilled to welcome two new and innovative student startups to our tech incubation programme as winners of the University of Bristol's New Enterprise Competition.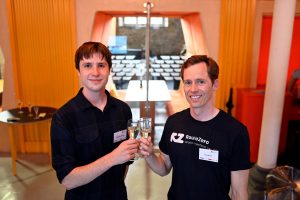 RouteZero and Ultra Horizon will join our supportive and diverse community of over 80 startups, scaleups and spinouts to receive bespoke coaching and mentoring, training and networks.
RouteZero is a platform that helps individuals and organisations switch out high-emission travel for greener journeys. Founded by computer science graduate Albie Baker-Smith and Co-founder Dan Brown, their £10k competition prize will go towards customer acquisition, developing and running their platform and enhancing their partnerships.
Ultra Horizon, founded by computer science graduates James Webb and Anthony Wharton, is an engineering firm that offers high spec cyber security. Anthony said: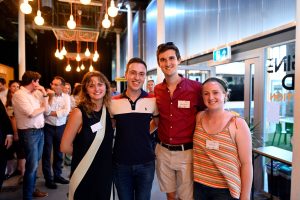 "We're thrilled to have won the New Enterprise Competition and are really excited for the opportunity to work with SETsquared. We can't wait to see how we can develop our business further, as well as network and potentially collaborate with other like-minded startups."
Our existing member Milbotix won pro-bono support from our Lawyer in Residence VWV for its smart socks that enable better care for people with communication difficulties.
Marty Reid, Director of SETsquared Bristol, said:
"We're proud to sponsor the annual New Enterprise Competition to celebrate the exciting entrepreneurial talent emerging from the university. It's brilliant to see so many new ventures with the ambition to improve people's lives and solve real world problems. We are really looking forward to supporting  RouteZero and Ultra Horizon in the next phase of their startup journeys."
Last year's overall winner PEEQUAL have since become a common sight at UK festivals, including Glastonbury. They join a plethora of notably successful previous winners that include our members KETS Quantum Security, LettUs Grow and UltraLeap.
New Enterprise Competition information:
The New Enterprise Competition is the University of Bristol's flagship start-up competition, run by the Basecamp Enterprise team. The competition has a 20-year history providing funding, mentoring and adviser support to early stage startups of University of Bristol undergraduates, postgraduates, alumni up to 3 years after graduation, and staff. The competition works with candidates across three stages through the Ideas Stage, moving your startup forward towards the Development Stage, to taking your startup to the next level in the Growth Stage of the competition. Every year £35,000 is awarded through sponsor support. Winners are part of the 20-year tradition of celebrating and rewarding entrepreneurship at the University of Bristol.
Find out how to sponsor next year's New Enterprise Competition or mentor next year's applicants.
Recent News, Blogs and Stories
Fast track your technology business