Mogul Magazine Digital Business Surgery: How to stay focused and motivated to succeed
SETsquared Bristol is proud to partner with Mogul Magazine, Bristol's first Black led digital magazine. Members of our team share monthly business advice and digital business surgeries for Mogul's readers in each publication. Submit your business question to info@mogulmagazine.co.uk, where it could be published and answered by one of our business experts. Together we'll ensure that business advice, information and opportunities reach entrepreneurs from diverse background across the region.
In February's issue Pete Keevill, Entrepreneur-in-Residence at SETsquared Bristol, answers this month's reader question.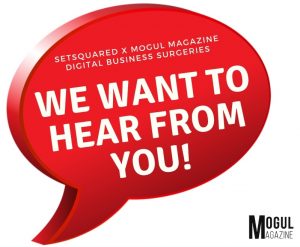 Question:
I started a business a few years ago but I find it hard to stay motivated and focused. I know I am good at what I do but life often takes over and I just don't seem to find enough time to juggle my work life with running a business right now. Do you have any advice on how I can manage my time better plus methods I can use to stay focused and motivated to succeed?
.
.
Answer:
Starting a new business from zero is hard – really hard. There will be days when everything comes together just as you dreamed it would, days that will be full of excitement that leave you buzzing with energy and optimism. But there will be other days when nothing goes right, the world just seems to slam the door in your face, when battling on to pursue your dream just seems ridiculous. And there are probably going to be a lot of days where you are just grinding on, working hard but without the guarantee of a salary or indeed any reward at the end of it, trying to stay positive but wondering if it will ever get any easier. If you are trying to do a "day job" at the same time those grinding days can be the hardest.
That's how it is going to be, for everyone who starts a new business – and to be honest many ideas don't work out, so be ready for that too. Forewarned is forearmed – so how do you get through it? Here are a few pointers:
Firstly, be honest with yourself about how much you want this new business to work, how much you are willing to put into it, how much risk you are willing to take. You have to fall in love with the idea of your business to have the passion to give it a real go otherwise you won't get through the bad days; "I'm sure this could work and if I don't do this now, I will always kick myself for not trying". But you have to keep the perspective that it might not work out as you dream, so set yourself some reasonable limits; "I've got £5000 saved up I am willing to risk on this"; "I'll put my weekends and evenings into this for the next 3 months"; "If this comes between me and my family I will stop". All time management methods start with deciding what is really important to you, budgeting to spend time on those things and prioritising between them. So, now you are sure you are passionate about this idea, balance it with some reality about the effort and the risks. How do you make it happen?
There are very, very few people who can make a new business venture successful on their own – everyone has their limits, and starting a new business is probably going to take you over those limits. You need to find people around you who can support you and bring fresh ideas, but also challenge you and hold you accountable to what you said you were going to do. Finding a business partner or two, people who you really trust, who can bring different skills and insights to the business is ideal – if you can find the right people. Sharing the dream with others who can spread the load on the grinding days, keep each other honest, pick each other up on the bad days – and not let each other get too carried away on the crazy good days – can make a huge difference. Whether you have a partner or not, finding yourself an experienced Business Mentor and networking with other entrepreneurs will allow you to learn from others, and keep a balanced perspective so you can make good decisions. Joining an incubator like SETsquared is a great way to tap into all the skills and experience of many entrepreneurs and business people who have climbed the mountain of building a business.
Finally, with the help of your business partner and fellow entrepreneurs, keep being honest with yourself and review where you really are with your business. You will learn a huge amount as you work on your idea so your business will need to change and adapt to learn from mistakes and exploit successes to the fullest amount possible. Give yourself the chance to reflect, learn, make decisions and keep yourself empowered and energised and in control.
.
For more information on SETsquared Bristol news, opportunities and events, sign up to receive the monthly newsletter.
Find out about our current projects at SETsquared
*Banner photo courtesy of Women of Colour in Tech
Recent News, Blogs and Stories
Fast track your technology business