It's a fitting time for an update on SETsquared Bristol's equality, diversity and inclusion work as October is Black History Month, plus Ada Lovelace Day, Dyslexia Awareness Week and Diwali all fall within this month.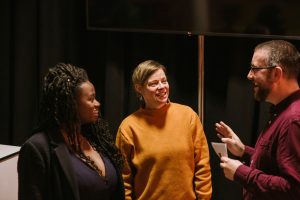 Yet it's been only a year since my last update, and year can be a short time in the world of inclusivity. What real change can be made in such a short space of time? Arguably, not a great deal, but cumulative change can be well demonstrated.
In 2020, a report from Extend Ventures emerged to show that between 2009 and 2019, the UK's total equity investment in to minority ethnic founders and women founders was at a disappointing 1.7% and 2.87%, respectively.
In 2019 SETsquared Bristol launched its Breakthrough Bursary* to enable minority ethnic founders to access the world class business support we offer at highly subsidised rates. Over the last three years the Breakthrough Bursary has supported 14 companies who have raised a combined £2.7 million in funding and created over 65 jobs.
In the same year, thanks to generous support from NatWest and as result of the pioneering Rose Review, we launched our Enterprising Women** business support programme, which was designed to help women founders commercialise their hobbies or side hustles without quitting their day jobs. Over the last three years 94% of our Enterprising Women alumnae are still trading, they've generated more than £1.5 million in revenue, raised over £6.5 million in funding and created more than 150 jobs.
That's a combined economic impact of over £10 million and over 200 jobs created from these two initiatives. The data proves that equality, diversity and inclusion is worth investing in.
As a not-for-profit, SETsquared Bristol has had to rely on funding from outside sources to make these initiatives a reality. Our alumni members have kindly contributed half of their membership fees to ensure the Breakthrough Bursary continues. NatWest's continued support means we can run Enterprising Women 3.0 next year. A special thank you goes to the University of Bristol, who have funded us in the research we've undertaken to make these programmes a reality, and helped to increase the number of startups the Breakthrough Bursary supports.
In total since 2018 we've received £80,000 for our equality diversity and inclusion work and we've made such an impact, imagine what other organisations could do with the same amount or more?
Two great instances of leading by example come from SETsquared members:
Condense, who backed by their lead investors LocalGlobe, created a fully funded Metaverse scholarship that aims to bring more diversity to their team and the wider tech ecosystem;
Gritty Talent, the trailblazing former Enterprising Women and Breakthrough Bursary awardee, is changing the shape of the TV and film industry through their platform which matches underrepresented talent to get visibility from decision makers.
Moving forwards, we're working with Leonard Cheshire and the West of England Combined Authority to undertake a disability needs assessment to inform our ever-developing inclusion strategy, as we focus on a more intersectional approach. Not to forget that our Community Partners, Babbasa, are joining us at Engine Shed on 17th November to lead a workshop on Inclusive HR Practises for startups.
I'm genuinely interested to understand what other business support organisations, academic institutions, local governments and commercial enterprises are contributing to in this space. Please get in touch with me (Paul.Forster@setsquared.co.uk) if you want to discuss your own programmes, find out more about what we do or simply need some help in getting started.
*The Breakthrough Bursary is open for applications for technology founders from minority ethnic backgrounds, apply by 7 November.
**Enterprising Women 3.0 is open for applications from women entrepreneurs, apply by 8 December.
Recent News, Blogs and Stories
Fast track your technology business