On Thursday 13th December, Bristol's tech scene gathered for the final SETsquared Bristol Connect of the year. The December networking event was bigger than usual with the festivities bringing additional sparkle. Sponsored by Hazlewoods, over 120 people gathered to foster peer-to-peer relationships and potential collaborations.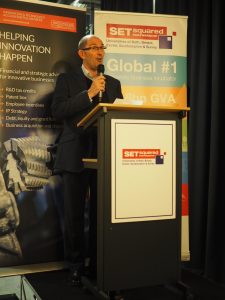 Festive Connect featured lightening pitches from four of new SETsquared members, Actuation Lab, Barbal, Maths with Parents and Verinym. The Success of the Month award was presented
to KETS Quantum Security by David Clift, Partner at Hazlewoods, for KETS' recent raise of over £2 million in investment, enabling the start-up to accelerate growth and fund trials in the aerospace and telecommunication sectors.
SETsquared Bristol Centre Director, Monika Radclyffe, thanked members and supporters in a speech that summed up another successful year. She said:
"We are here not only to celebrate the achievements of our companies but also to thank you for contributing to the successes of our ventures. This year we've worked over 80 companies who have raised more than £70 million in investment."

"This year was also important for us in terms of diversity. We have worked hard to attract female founders and ethnic minority founders. As we continue those efforts I am excited to announce that, with the support of our alumni members, we will be launching a bursary to fund the membership of underrepresented companies in 2019."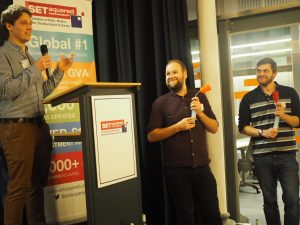 The Connect event rounds off another fantastic year at SETsquared Bristol. If you are interested in supporting our 2019 Connect events or our other activities, please get in touch.
For more information on SETsquared Bristol news, opportunities and events, sign up to receive the monthly newsletter.
Recent News, Blogs and Stories
We are thrilled that Monika Radclyffe, Centre Director at SETsquared Bristol, won the Innovation Champion Award at the Launch: Great West Awards last night. The…
LettUs Grow, an innovative Bristol start-up tackling some of the world's biggest agricultural sustainability challenges, is calling on locals for support as it competes for…
Immigration Minister Caroline Nokes visited SETsquared Bristol yesterday to meet with a variety of our member companies to discuss skills and immigration. After a tour led…
Fast track your technology business