We're thrilled that our Community Manager Paul Forster has been nominated for FDM's Everywoman in Technology Male Agent of Change Award. This is testament to his active commitment to championing and advancing the progress of women in tech.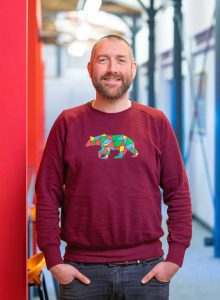 At SETsquared Bristol Paul supports over 80 of our technology companies and develops a network of expert advisers and community partners to provide support to them.
Paul is also a former Co-director of For Books' Sake, championing marginalised and underrepresented writers, as well as Host/Programmer of That's What She Said, London's biggest spoken word night for women. Paul said:
"It's humbling to be nominated for this award and to be recognised for the impact I've made to SETsquared Bristol's equality, diversity and inclusion over the past six years. Many thanks to the inspiring women founders I've worked with along the way. I'll continue supporting and advocating underrepresented and marginalised founders in tech because the work is never finished."
Why a male agent of change? 
From the onset of Paul's arrival at SETsquared Bristol in 2017, he challenged our incubator to improve its inclusivity.
Paul set up our quarterly Women Founders' Forum to problem solve, skill share and build relationships between women in technology leadership. This insight, and additional research led by community engagement, led Paul to develop a report to identify and set up new initiatives to better support both women and minority ethnic founders to start and grow businesses.
On the back of the research and the newly released Alison Rose Review of Female Entrepreneurship (2019), Paul secured three rounds of funding from NatWest to run Enterprising Women, our fully funded business support programme to help women take their business or idea to the next stage.
Enterprising Women is among many initiatives Paul has led to improve tech inclusivity, including our Breakthrough Bursary supporting tech founders from a minority ethnic background.
Paul has also worked to increase representation in our mentor and adviser teams and at University of Bristol and SETsquared panel events, as well as commissioning regular diversity and inclusion training for our companies and staff.
Thanks to Paul, SETsquared Bristol has significantly improved the gender diversity of its company founders, from 17% in 2017 to 45% in 2022.
We're proud to have built Paul's approach into all our internal processes so that diversity and inclusion forms a key part of our strategy.
So… best of luck to Paul who we think is well deserving of FDM's Award!
The ceremony takes place on 9 March at Westminster Bridge, London, shining a spotlight on the tech industry's most inspirational women in STEM from the UK and beyond. Find out more and book your ticket.
Recent News, Blogs and Stories
Fast track your technology business