It's been two years since I commenced my role as Community Manager at SETsquared Bristol, which continues to be an exciting and insightful journey that is enriched by the projects I've led and the partnerships I've made as Diversity Champion.
SETsquared Bristol have been working hard on increasing diversity and inclusion within the incubator, specifically regarding the inclusion of more women founders and BAME (Black, Asian and Minority Ethnic) founders. There is significant evidence that inclusive and diverse companies perform better financially and are more innovative, see McKinsey's report "Why Diversity matters" for further reading on this.
SETsquared understands that to lead by example, you must first look inwards, which is why we've undertaken our own research into the problem around lack of diversity and inclusion in the tech start-up world. See our initial 2016 gender diversity research report and our subsequent 2018 BAME diversity research report commissioned in partnership with local community organisations, ACH and Up Our Street. This research, kindly funded by the University of Bristol, aimed to identify and understand the barriers that BAME people have in accessing business support, such as SETsquared's world class programme.
The recommendations that came out of the research informed a cohesive plan of action that would commence SETsquared Bristol's journey towards becoming deliberately more inclusive of BAME individuals. In the spirit of transparency and acknowledging SETsquared's position as a role model and thought leader in Bristol, I wanted to share the changes we've made and what impact we hope them to make.
Getting uncomfortable
The first change was to run our free #Idea2Pitch workshops, which upskill budding entrepreneurs with new tech business ideas, outside of our premises at Engine Shed, and in community venues. In October 2018 we ran #Idea2Pitch in St Pauls Learning Centre, and the next event will happen on 30th April at Barton Hill Settlement. #Idea2pitch will happen twice yearly at different community venues around the city. This change has been made in order to engage with people and spaces that are outside of our usual sphere of influence, as well as "giving back" to Bristol through our proven skills in helping new businesses succeed.
Why do we think the way we do?
The importance of continual education is a virtue SETsquared extols to all our members through our programme and via our Entrepreneurs in Residence, and it's because of this that we implemented training, for the SETsquared team and our members. We have undertaken an inclusion training delivered by Richard Pettigrew, Professor of Philosophy from University of Bristol who has years of experience training in the field of institutional inclusivity. The session was delivered to interrogate our unconscious biases and to reflect on where we could be more aware of how learned behaviour can inform our decision making. Our members were lucky to receive training in cultural competency, delivered by Kamaljit Poonia from babbasa, to help founders in developing cultural competency at the leadership level. The workshop aimed to equip our business founders with a toolkit for challenging their own and their teams' mindset and to drive an interest in developing a robust and inclusive hiring practise.
Changing public perception
The research recommendations allowed us to understand that the way language is used can be implicitly exclusive, which was specifically the case with SETsquared's use of "high-tech" on our website and in all our promotional communications. It's with thanks to The Social Detail, who conducted a marketing audit of our website, social media and all internal documentation, that we've now updated all our internal and external messaging to be more inclusive and representative. Further to this, we were given a style guide and resource library to refer to, ensuring any new content we create can be sense checked and shared with confidence of tone and inclusivity. The way we communicate is often unconscious, and we want to make sure we are more aware of the language we use, which will be very important for future marketing campaigns, attracting a diverse pool of entrepreneurs to the incubator.
Encouraging entrepreneurs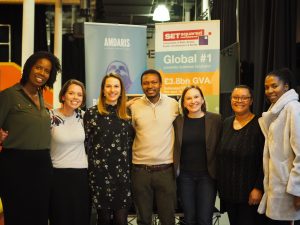 SETsquared's Alumni ventures kindly agreed to an increase in membership fees in order to fund our new Breakthrough Bursary launched at the end of February 2019, which is open to existing tech business founders and first-time entrepreneurs from BAME backgrounds. Three bursaries are available, covering 75% of Residential Start-up Membership (normally £210 incl. VAT) available for up to one year. We hope the Breakthrough Bursary will be utilised to encourage more BAME entrepreneurs to apply to access SETsquared's business support, so we can help them grow and succeed. The deadline for applications is May 6th 2019, however we're aiming to utilise the Breakthrough Bursary in subsequent years to increase participation from other under represented groups (differently abled people, the LGBTQ+ community, entrepreneurs from lower socio-economic backgrounds etc), which funds SETsquared Bristol membership to qualifying entrepreneurs from under-represented communities. The Breakthrough Bursary aims to encourage and support applications from tech entrepreneurs from Bristol's BAME communities and drive the creation of widely innovative start-ups.
Active listening
One of the most rewarding things about working on increasing diversity and inclusion at SETsquared Bristol has been forging relationships with our amazing Community Partners, without them none of this work would have been possible. I found the key to delivering effective actions was in listening to engaged individuals and groups who understand the local BAME business ecosystem, especially in relation to what might be missing or what specific needs are. Therefore our sincerest thanks are due to ACH, babbasa, BSWN, Cognitive Paths, DigiLocal, Emmaus, The Social Detail, University of Bristol BAME Staff Advisory Group and Up Our Street – for your continued support.
Working together for better
The importance of these relationships we've built and hope to develop and maintain needed to be on-going and mutually beneficial, therefore all the help and support we've received from our Community Partners means that their staff and service users can now access our workshops free of charge. We've extended initiations to all directors and heads of Community Partners to all SETsquared networking events and to sit on our Business Review Panels, in the hope that a more diverse network will breed inclusion and innovation as a result.
I entered into this project with an innate awareness that any work involving increasing diversity and inclusion has to aim for long term change, so I'd like to assert that our intentions are not short term and that we've ingrained change into our day-to-day processes. However, it's important to understand that we don't exist in a vacuum – leading by example is useless unless other influential organisations decide to do the same, if we all listen to and learn from diverse partners and share the basis of good practise with each other then we're more likely to enact change.
For more information on SETsquared Bristol news, opportunities and events, sign up to receive the monthly newsletter.
Fast track your technology business