Our University of Bristol partner, Quantum Technology Enterprise Centre (QTEC) is delighted to announce the launch of the QUEST programme, starting in October 2021. QUEST is a six month pre-incubator programme that will kickstart new technology ventures in the United Kingdom and beyond.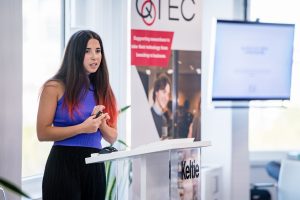 The QUEST programme will support commercially driven researchers who are looking to develop deep technology companies and provide them with the necessary training and support to create pre-seed technology ventures. Each cohort will have a specific technology focus with the first cohort focusing on quantum, quantum-enabling and quantum-inspired technologies starting in Autumn 2021.
Founders who are selected for the QUEST programme will receive business-training designed specifically for the creation of deep-technology companies, mentoring from respected industry leaders, regular road-mapping sessions with their team of Entrepreneurs in Residence, as well as potentially getting the opportunity to pitch for capital from their network of UK and European angel investors and VCs.
The QUEST Programme is based in the Quantum Technology Innovation Centre in Bristol and will be a blend of in-person and online training. Participating founders will benefit from the proximity to the Bristol and Bath region, one of the most innovative, creative and desirable places to live in the UK. The Bristol and Bath smart city region is home to a 5G testbed and the UK's most productive tech cluster, providing world class digital connectivity. In addition, the founders will have access to the entrepreneurial network in the West of England which has a strong track record of commercial success in bringing research and innovation to market.
Over the past four years, QTEC has supported the development of UK's quantum industry, supporting the creation of 28 active companies with a combined valuation of over £120 million, that have raised over £56 million in equity, grant and revenues and created over 170 new highly skilled jobs within the UK. 
SETsquared Bristol member, Neciah Dorh, CEO and Co-Founder of FluoretiQ who was part of QTEC cohort 1 in 2016/17 , said: "QTEC gave me the freedom to explore the commercial possibilities of my technology ".
Applications for the QUEST programme are now open at www.qtecbristol.com/apply. Selected ventures will start the six-month programme in October 2021. To learn more, please contact qtec-enquiries@bristol.ac.uk. 
For more information on SETsquared Bristol news, opportunities and events, sign up to receive the monthly newsletter.
Recent News, Blogs and Stories
Fast track your technology business