SETsquared Bristol Case Study – AutonoMe: Independence for people with learning difficulties
To help our aspiring entrepreneurs and future SETsquared Bristol members, we are showcasing a number of case studies demonstrating the breadth of tech and depth of success in SETsquared Bristol and what it takes to achieve.
We had a chat with AutonoMe Founder and Director, William Britton…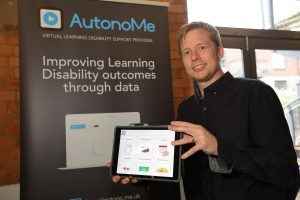 What does AutonoMe do?
We are a support provider for people with learning disabilities. We've supported people from 12 years old all the way up to early 70s. Everyone who uses our service has a learning disability of some sort, and instead of providing the traditional method of a person standing next to them guiding them through tasks like cooking or cleaning, we have developed an app where they work through video content – for example, how to change bed sheets – and they follow the video and self assess their own care needs.
Service user information and video interaction data is pulled through to a dashboard that provides local authorities with insights into how the service user is developing their independence and achieving outcomes. We as a team of learning difficulty specialists make recommendations on how to improve care packages using this data as evidence.
For example, if you can see a person has been able to cook but their cleaning ability needs support, the local authority knows to focus its commissioning around maintaining a clean house, rather than spending resources on cooking, which the person doesn't need help with. This empowers the person to focus on more complex tasks that are rewarding for them that they need more support with, like travel training or getting a job. This means the local authority can be more efficient with each person's care package.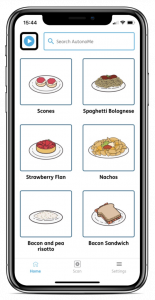 How did you enter SETsquared?
I applied a long time ago, and we started in 2017. I had an interview with SETsquared's Entrepreneurs-in-Residence, Rick and Grev, where I demoed the tech and was grilled on it. In hindsight, the thing that was probably impressive was that I had developed a prototype and people were paying for it. The area where I needed most support was turning it into a business, and turning myself into someone who could run a business. At the time I knew how to build a product for someone with learning difficulties that would help them, but I had never run a business before and I needed help with that.
How has SETsquared helped you?
It's been hands down one of – if not the best decision I've made. I'm a firm believer that you get out what you put in, so when I started I went to every workshop that was on, which affected company turnover, because I spent so much time going to them and meeting with Rick and Grev, but it gave me a much better idea of how to turn the product into a business.
I've gained loads of great knowledge that I wouldn't have been able to get anywhere else, as well as access to advisors and experts: I've met almost all of our seed investors through SETsquared – many of whom at Tech-Xpo 2016.
There's also the ability to go back and flesh out ideas. To be in a room with people facing the same challenges as you, even if you aren't in the same sector, is great, and there is such a friendly and helpful culture here.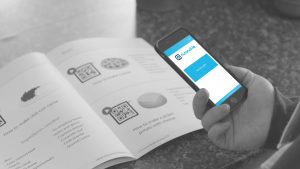 What business have you won so far?
When I started with SETsquared Bristol I had about £5k worth of business, maybe £10k. We now have overhauled the product, which has been on the market for 18 months. We have successful case studies to back up how effective it is, our clients piloting it have scaled up, and we are rolling it out across Surrey and Devon. Devon Council is our largest provider, and the tech is used across Plymouth, North Somerset, and parts of Bristol. It is also being used to introduce innovations to councils in London on an 18-month initial programme, so we anticipate growth there in the next 12-18 months.
Who is in your team?
We have a full-time time team of four. I run the company. Our Engagement Lead ensures service users are using it properly, and trains staff around the user to know how to embed AutonoMe into their care delivery. He provides strategies, looks at and tests data, and makes care package recommendations whilst feeding the experience back to us at Head Office to make improvements to the tech to further improve how we can support our service users.
Our Director of Business Development is in charge of contracting, procurement, negotiations and contracts with local authorities, and social impact bonds. We also have a Lead Developer. We used to outsource the tech, but after the last investment round we brought it in-house and our Lead Developer oversees it, develops the dashboard, and a third party does the front end of the app.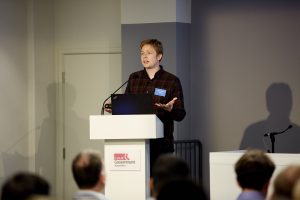 Do you have any awards/accreditations?
Yes – we are finalists in the Digital Leaders Award – we find out next week whether we have won, but it's a national award and we're up against the NHS, which is a formidable competitor! We also won the IoT Boost programme and the Scale It Challenge with UnLTD.
Are you looking for investment?
Not actively – we don't need it at the moment, but we will make a concrete decision at the end of the financial year. At the moment, we're focused on expanding our client and user base before possibly going to market for investment. In the meantime we are happy to be introduced to investors and funds that are interested in our space.
What's been your biggest challenge to date?
Selling to local authorities! You have to get a lot of people around the table to sign off, and they have strict procurement rules that are difficult for a start-up to navigate. It's this procurement process that probably stops small businesses grabbing things that big companies can because they have larger teams. Our solution is to completely built on addressing the challenges faced by local authorities which is niche.
The next biggest challenge is operationally scaling in a Local Authority to support more service users. To help Local Authorities with this we are very pro-active to achieve this goal. We can support a lot of their service users, but the speed at which they are able to scale within their teams is challenging.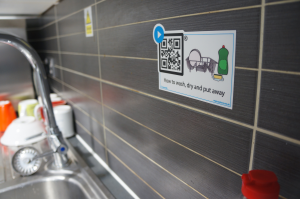 What are your next steps?
We are focused on growing the authorities we are currently supporting and ensuring that we are delivering successfully. We're in further negotiations with a handful of Local Authorities at the moment, and London is a good opportunity for us with the London Ventures Programme, which offers a pipeline into London Borough Councils, so that will be our next area of growth. We can cost-effectively support London because of population density. We have scaled in Devon – one of the least densely populated areas -so London should be good for us.
What's the ethos underpinning your business?
Independence for people with learning difficulties.
What's the best piece of business advice you've been given?
When I was very active in SETsquared and was also in the acceleration programme, had a mentor and a Board I was suffering from too much advice. Someone said to me: rather than what everyone else is saying, what do you think you should do?
They advised me to follow my own gut because I know my industry and business – sometimes you can have too much advice. At that point it was the best thing for me because I went with my gut and it was right, so I reduced some channels of advice and support I was receiving and moved forward.
Discover more of the companies SETsquared incubate here and sign up to the monthly SETsquared newsletter to keep up with news, events, opportunities and more.
Recent News, Blogs and Stories
Fast track your technology business