SETsquared Bristol case study – Fluence World: Where linguistics meets artificial intelligence
To help our aspiring entrepreneurs and future SETsquared Bristol members, we showcase a number of case studies demonstrating the breadth of tech at SETsquared Bristol and what it takes to achieve success.
We had a chat with Fluence World Co-founder and COO, Jennifer Hore…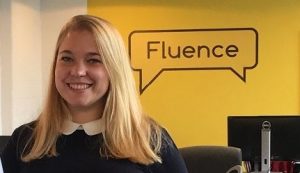 What does Fluence World do?
Fluence delivers AI-assisted Quality Assurance to regulated industries. In any regulated industry, getting thousands of professionals to conform to common standards is complex and subjective, and this creates risk. Fluence's AI allows regulators to codify and standardise their decision-making, based on historic decisions. We then help these organisations to disseminate their values and standards to businesses in their industry network as an off-the-shelf product.
Tell me about your background and what led you to start the business
Five years ago, my Co-founder and I were running a literacy-teaching consultancy that specialised in moving illiterate young offenders back into college, by pinpointing the gaps in their communication that prevented them from engaging with college or work.
We built powerful frequency analysis software that allowed us to pull the language apart to see how valuable each individual component of language would be to students, based on the typical requirements of college.
For instance, teaching just forty targeted words and six grammar rules could improve a learner's understanding of a course by 20%. This meant that young offenders were successfully returning to college with an average of six hours of specialist teaching.
Three years ago, we had a revelation. We could use our 'language mapping' software not only to understand a subject and teach it, but also to make incredible predictions about the nature and purpose of the content itself. We realised we had developed technology that could successfully mimic skilled human judgement and pinpoint how vital commercial decisions were being made – which led us to create Fluence.
Today, we use our technology to bring visibility and transparency to complex, high-stakes decision management activities. Our goal is to become the custodians of quality for the world's leading authorities.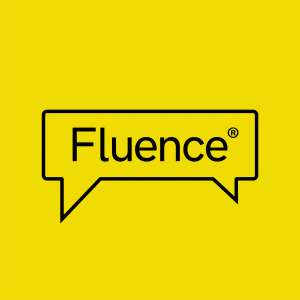 What's the ethos underpinning your business?

We're building a business that employs ambitious people with a shared vision of bringing clarity to complex decision-making. We all treat each other with respect and go the extra mile for each other.
We understand that implementing AI is a big step for regulators, and they have a lot to lose by getting it wrong. The key is trust. It is important to us that our clients feel confident that we will help them to deploy AI in a safe and ethical manner.
There is a lot of talk about AI and technology replacing humans, and this scares people. It's important to us that we are building something that makes humans better, giving them the power to become the operators, rather than subordinates to this new technology. Our goal is to put humans in the driving seat, but to leverage AI to allow people to extend themselves far beyond what they ever thought possible.
We are all about decision clarity. We go the extra-mile to reveal to our clients how AI-generated decisions are made.
We also believe that our technology is a powerful tool for detecting and removing organisational biases, something that our clients are keen to achieve. By holding a mirror up on how decisions are made, we provide decision makers with the tools they need to improve the quality of service for all members of society.
How did you enter SETsquared?
SETsquared was recommended to us by one of our advisors. Despite being based in Birmingham, we'd heard of SETsquared, and that it was one of the best tech accelerators in the world.
The interview was pretty tough but in a good way. It made us feel confident that they were focused on technology companies with solid foundations. We made the call that we would make weekly trips to Bristol to engage with SETsquared as a virtual member.
How has SETsquared helped you?
SETsquared gave us a place to learn from Entrepreneurs-in-Residence, workshops and fellow founders. The mandatory Business Panel Reviews (BRPs) were the most challenging but most valuable experience all at the same time. The first one was very difficult, but having a group of people help you unpick your biggest challenges became very useful, and you really end up with an honest view of where your business is at, and what to do about it.
To this day, becoming SETsquared members was one of the best decisions we made, as most of our investors and our advisory network have sprung out of this network. Through SETsquared, we found our mentor and chairman, Jez Williams, and our seed investors, BPEC – it is hard to imagine what Fluence would be like if we hadn't applied and got in!
What clients have you worked with?
Our largest project is with Novus, the largest education provider in the UK prison system, and the Ministry of Justice.
We're working with the Council for the Curriculum, Examinations and Assessment (like Ofsted, but for Northern Ireland).
We have just won our first contract with the NHS to moderate the quality and suitability of content.

What investment have you raised?
We raised £475k between December 2016 and December 2020.
We are launching an aggressive Series A investment round this year and recently raised an ASA round to support us with this.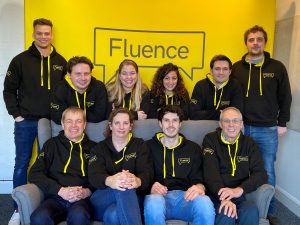 What are you most proud of?
We are most proud of the team we have managed to build. Our team has built something truly incredible with significantly fewer resources than many people would expect.
In my role on the business side of the company, I'm particularly happy that the product and service is starting to make waves. We were recently accepted onto Google's prestigious UK Immersion programme, looking to bring the best of Google to companies like ours. We're particularly keen to learn from them about how to make complex businesses accessible to wider audiences.
What are the next steps for the company?
2020 is a big year for us. We're on a mission to grow our number of regulatory clients from three to ten.
This is not as much about revenue growth, but about making ourselves indispensable to ten of the UK's most prestigious regulators and standards agencies.
We are fuelling this growth with a Series A round, which we plan to close toward the end of Q3.
What is the one piece of advice you can give to women tech founders?
Develop a great network and don't be afraid to ask for introductions from people.
It is amazing how useful a good network can be. I used to be quite shy about asking for help, but I underestimated just how willing people are to help each other out. In the same way that I like being helpful to people, I have found that people are keen to give back and help others. These days, I am clear about who I'd like to speak to and why, and people know that they can expect the same from me.
Discover more of the companies SETsquared incubate here and sign up to the monthly SETsquared newsletter to keep up with news, events, opportunities and more.
Fast track your technology business