Bristol attracted the third largest amount of investment into tech businesses of any UK city in 2020, according to the latest annual report by Tech Nation, with the South West posting a record year. 
Bristol and Bath also rank 12th across Europe for investment in tech, ahead of cities including Barcelona, Cambridge and Madrid.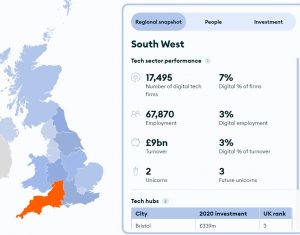 Tech Nation says £339m in venture capital funding went to Bristol tech firms last year, behind Oxford with £436m and London with £8.6bn. 
The South West is now home to almost 17,500 tech companies, around 7% of the total number of businesses, and employs 67,870 people with a combined turnover of £9bn. 
Bristol-based innovative semiconductor company and SETsquared Bristol alumni spin-out, Graphcore, are named a top 10 superstar scaleup.   
And SETsquared Bristol alumni, Ultraleap, and previous SETsquared Bristol member Immersive Labs are named as 2 of the 3 future unicorns in the South West. 
Diversity improvements needed 
The report highlights that there is still progress to be made with regards to tech inclusivity with only 6.6% of digital jobs in the South West being made up by women and 8.8% by people from a BAME background.  
Tech accessibility is something we are passionate about at SETsquared Bristol and we were pleased to report record founder leadership diversity of our member companies in 2020 with 45% women founders and 23% BAME. We acknowledge we still have a way to go and continue to commit to our free or subsidised pre-incubation programmes, Enterprising Women and Breakthrough Bursary.  
The wider picture 
Of the report findings, Gerard Grech, founding chief executive, Tech Nation, commented:  
"These are truly exciting times for UK tech. The successes of the past decade have shown what the UK is capable of when policy foresight, investment and a diverse and ambitious pool of talent come together. By continuing to set our sights high, the next decade promises to be the most innovative yet." 
Fast track your technology business