Following our member Gritty Talent's recent pre-seed funding success with Innovate UK and partnership with Channel 4, we had a chat with Founder and CEO, Mel Rodrigues, to hear her story…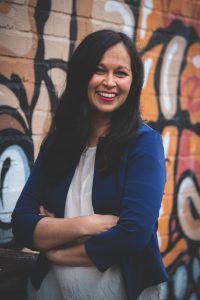 Gritty Talent key facts
Start date: 2019
Market sector: TV and Film (Createch)
Location: Bristol
Number of employees: 11
Company growth status: High growth startup
In your own words tell us what Gritty Talent does?
Gritty Talent creates scalable and smart solutions for the TV and film industry's diversity and inclusion (D&I) problems. Creative talent is the lifeblood of the sector – you need the best minds to come up with ideas like Bridgerton or Strictly – and bring them to life. But the sector is not attracting the volume of talent it needs to produce its world-leading content, and it's not attracting the breadth of talent that it needs to be truly representative of and relevant to its diverse global audiences.
All the main UK broadcasters and platforms know this is a big problem for their future success – and have announced D&I targets that production companies must meet.
From my previous work at the BBC Academy and TEDxBristol, I learnt that D&I work tends to be done via small grass-roots projects, and takes time to get results. I believe we'll only be able to change the shape of the talent base with a more joined up and ambitious approach. So we're building technology and services that do the talent connecting work in a much more consistent and scalable way.
How did you start this journey?
I'm not a techie but I'm a tech fan. My background is in TV production. I spent about 17 years travelling the world making factual and current affairs documentary programmes for the BBC and ABC.
As my career progressed, I was hiring people for my teams and pitching new on-screen talent to commissioners. It was then I noticed that there was often a lack of meaningful diversity in terms of who applied for creative jobs or who was even on the radar of decision makers – and I got curious about this.
At that point I was running TEDxBristol, and made it my mission to use TEDx as an experiment in how I could work more effectively with grassroots talent in Bristol from underrepresented groups in media, who perhaps had blockers to accessing the industry.
We grew an amazing team, with people of all backgrounds, ages and skills –  and soon managers  that I used to work with at the BBC started reaching out to them with job offers. I realised we'd created a model where people were visible, there was access to talent, and the opportunities started to become more real. I thought, "This has real commercial value to the hirers. So let's see if I can create a business".
That's when I went all in. I got a place on SETsquared's Enterprising Women pre-incubation programme in 2020, which was fantastic to learn the nuts and bolts of getting my business started, as well as supporting me to pivot the business model due to Covid – a perfect time to get advice and input. I got the confidence to make it 'tech first', to create a remote solution to connect talent which was a great way to scale the business. We got an Innovate UK grant of £100k to build our talent matching platform – an inclusive space where all the talent is from underrepresented groups. We now have hundreds of talented people on the platform being connected into the industry and getting visibility from decision makers.
How has SETsquared Bristol support and the Breakthrough Bursary helped?
SETsquared Bristol has been critical to helping me grow my confidence and expertise as a founder. I think that one of the biggest barriers to people taking the leap is worrying about not having all the knowledge and contacts they need to strategically start a business. I'm a creative practitioner and my skill set is in creative media – I've not run a company before. But through the Breakthrough Bursary I've got access to so many interesting people who have done this before, to draw on experience and wisdom.
Having advisers who can take a wider view, help me unpick decision-making and provide advice on strategy has been pivotal to growing my confidence. Once you have those conversations, you feel more able to grow your muscle as a strategic decision maker.
The Entrepreneurs in Residence have provided a sounding board and sometimes shoulder to cry on about the highs, lows and howlers!
There's also access to practical skills and training, like the investment readiness course we've just done. The other thing that's amazing about the SETsquared community is the network of people that you can draw on. For example, I needed a Head of Product quickly for when we got our Innovate UK money. Through SETsquared's network I soon found our fantastic Head of Product, Dan Lewis. I don't think I would have found him without having that hotline to people engaged in this area.
You recently partnered with Channel 4, what does this mean for you?
It's a hugely exciting partnership. Working with Channel 4 means we're at the coalface of diversity and inclusion best practice with the decision makers. For me it's about being on the pulse of what's happening in my industry and understanding Channel 4's pain points when it comes to talent and diversity. To have that input from industry leaders is really useful, and to see the direction of travel they're going in.
The specific thing they've asked us to do is to find and connect creative talent from minority ethnic groups and disabled groups; two areas where production teams are really lacking in terms of D&I. This has helped us to grow our expertise in these areas, understanding the structural and financial barriers that keep people from those groups from accessing the industry.
The most exciting bit is that the partnership enables us to do the work at scale – the talent problem needs to be solved en masse. It's really exciting to be able to deliver something that is going to have a critical mass, and hopefully long-lasting impact.
What advice would you give to entrepreneurs from underrepresented backgrounds looking to start a business?
I think if you're from an underrepresented group, whether it's in tech or media, you will always feel that you have a steeper hill to climb because you don't see role models yet, or a clear route. You worry you may not be accepted or taken seriously. Don't be disheartened by that. Just because you can't see yourself or people similar to you in these roles, it doesn't mean that you can't do it. I was worried that being a female in her 40's, from a minority ethnic group and not having a tech background were reasons that I wouldn't be able to do it. But I now know that that was wrong, of course I can!
In order to break through you have to ask for and accept help, it's not something that you can do alone. So use all the resources that are available, research all the grants. Get financial support, because if you're starting a business, you're of great value to your local and regional sectors. Get them to back you.
Don't be afraid if your idea isn't fully fledged. What I've learnt through SETsquared Bristol is that your idea and your business evolve, and you have to start somewhere. The moment you get out there and start accessing support and building the vision, your business idea will take shape and evolve.
The additional challenge with being from an underrepresented group, is that people always want you to be a role model and the representative. I get asked to do a lot more panels, talks and articles than I used to, a really amazing thing because I now have a bigger profile. But my advice would be: you don't have to do it all. You don't have to be the poster child for D&I if you don't want to. You need to balance giving back with being able to devote resources and focus to you and your business. Keep focussed on what you need to achieve, and value your time as well as other people's.
What's next for Gritty Talent?
We're very excitingly just about to do our seed investment raise, and we know exactly what to do having just done our SETsquared investment course! We've just raised £10k pre-seed funding from Creative UK to fund the no-code phase of our MVP development. We're also concluding a friends and family raise which will hopefully mean we can move a lot quicker. The seed raise will be about bringing the next stage of our technology platform to market. It's focussed on the equity, diversity and inclusion of production teams and talent, and how companies engage with that work. We'll be building a no code prototype to test assumptions about how it's going to work and will test with our clients to see how it functions for them.
In October we're delivering the opening session for WildScreen, the international wildlife filmmakers conference. We're going to be working with broadcasters from around the world to make the business case for D&I. It's a big moment for us to discuss the importance of this work, and of course let them know what Gritty is all about!
Finally, and most importantly – I'm taking a holiday for a week so I can rest before I rise!
Fast track your technology business