To help our aspiring entrepreneurs and future SETsquared Bristol members, we showcase member and alumni case studies demonstrating the breadth of tech at SETsquared Bristol and what it takes to achieve success.
We had a chat with LatchAid Founder and CEO, Dr. Chen Mao Davies…
LatchAid Key Facts
Start date: July 2018
Market sector: Femtech
Location: Bristol
Number of employees: 3
Amount of investment raised: £260K in grant funding
Company status: Seed stage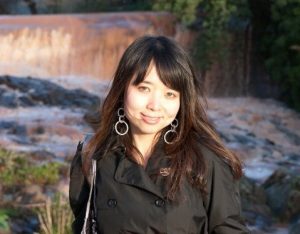 What does LatchAid do?
LatchAid is an award-winning femtech startup using innovative 3D and AI to support women through their breastfeeding and motherhood journeys. We provide help and advice to change the way women are supported at the most vulnerable stage of their lives.
The app uses accurate CGI modelled animations of mother and baby for users to visually learn breastfeeding skills to achieve that deep latch. We've worked with industry experts and the best lactation consultants to script the animations, demonstrate feeding positions, to simulate accurate movements and timings as well as breathing cycles. LatchAid users can also connect with other mums through the app for peer-to-peer and professional support anywhere and anytime to share, support and encourage.
How does LatchAid strike the balance between AI virtual support and peer support networks?
Our app is designed like a real-life peer support group, where there is a trained and qualified peer supporter available to answer questions. The AI powered virtual supporter uses AI and a neural network to model how a lactation consultant's brain works. The areas covered span from breastfeeding to infant feeding as well as baby development, sleep, maternal health and pregnancy. The AI was trained with 1000 mothers from 20 different countries.
Users can chat to each other at any time through the peer-support function, but they can also click the button to chat to the 24/7 virtual supporter to get credible answers provided from trained experts. Our AI neural network can successfully triage 70% of questions that users ask. But if the virtual supporter can't answer well, we offer the option to chat to a real-life expert in our in-house team. When the team decide the virtual supporter can take over, it switches back, and this helps us to train the AI to solve issues, to make it more robust and to help it become more scalable. The amount of lactation consultants we need should be able to reduce in future as the AI is trained, to really bring the digital innovation to the forefront.
Can you tell me a bit about your background?
I have a PHD in Computer Graphics, and have been a computer scientist for the last 15 years, specialising in animation and visualisation. I've worked in SMEs and academia but the highlight for me was the last ten years working in the visual effects industry for a world class VFX studio called Framestore as a Research and Development Software Engineer. I worked on a number of blockbuster films for Marvel, Disney and Warner Brothers, including Oscar and Bafta award winning movies, Gravity and Blade Runner 2049.
What led you to start the business?
Before I had my baby I was a career woman. I had conquered the challenges brought by coming to the UK from China 18 years ago with two suitcases and almost no spoken English, and had reached the height of where I wanted to be. I never thought I would leave the film industry but I had my first child and realised that it's not like being in control of what you can do in your career. I felt like the world's most rubbish mum, and the main issue was the challenges around breast feeding.
I didn't learn how to position the baby properly from antenatal classes, and there was no opportunity to be taught about it. If you don't achieve a deep latch it will cause injury very easily. I suffered with chronic mastitis, thrush and post-natal depression and was very anxious about everything. My baby was underweight and I felt blamed and shamed. This is the story of so many women and why 90% of women give up breastfeeding before they want to. I didn't give up and eventually turned the corner. That was when I realised I could help other people. This area desperately needs innovation, and there's so much impact to be achieved by supporting women to breastfeed. This includes not only the health benefit for the mother and baby but the social, environmental and economic impacts are huge.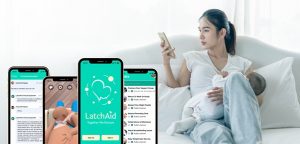 Tell me about your journey into SETsquared Bristol via Enterprising Women and the Breakthrough Bursary.
I was accepted on SETsquared's Enterprising Women programme in 2020, it was really helpful to join the network and meet other women founders. It's super important to have people share your pain and to hear how other founders solve challenges. I met the previous Women in Innovation Award winner, Becky Sage, on the Enterprising Women Programme – she helped me pitch really well and I won the award in March this year. The other helpful aspect was learning through workshops and mentoring. I was mentored by SETsquared member, Sarah Bolt of Forth, who has been so helpful from day one, and we're still in touch.
My next big achievement was receiving SETsquared Bristol's Breakthrough Bursary, which really opened the door for me and made it more accessible to join the incubator. The membership has given me a huge amount of exposure, as well as the support and network to grow very fast this year. It's been a real boost of confidence for me.
How has SETsquared Bristol helped you?
The Entrepreneur in Residence meetings are really important – to have someone that's done it before to share your pain and the wisdom with you, as well as to help with strategic decisions, raising funding and just to track your progress and make sure you deliver. The Advisors in Residence have also been invaluable for specific business challenges.
The SETsquared community and network is really beneficial and means I hear about opportunities and get shoutouts for my successes. It's a great way to get connected to people in the ecosystem and wonderful to be inspired by other people's success trajectories.
In August 2021, you launched LatchAid to ios users during World Breastfeeding Week. What advice would you give to other startups looking to create an app?
The first and most important thing is the user study – make sure you're on the right track before you spend too much money and time on something that no one needs or wants. You need to build an app wire frame and present some sketches to get user feedback. But make sure you ask the right questions – how you frame the questions is very important. I recommend reading 'The Mom Test', you absolutely need to test your idea as early and as often as possible with your end users. I majorly pivoted from the initial design following our first user study in 2018, what I designed at the beginning looks very different from now.
It's important to follow an agile development process, starting from user testing the simplest MVP, and then gradually iterate to something better. Always try to talk to experts on the way. If you're building a medical or healthcare app you'll need a really good medical team and have medical professionals supporting you to make sure that it is evidence based, credible and reliable.
What investment have you raised and what impact has it had on the business?
Our R&D has been through grant funding and awards and we're looking to raise private investment right now. We've secured a total of £260K in grant funding from Innovate UK, EU, UnLtd and NHS Improvement Ltd. In 2020 alone we actually won three Innovate UK awards, including the Covid-19 fast response grant which is known to be the most competitive. The good thing about grant funding is not having the equity sacrifice and having more control of your company's destiny.
We've used the funding to start developing sentient AI to understand the emotional state of the user by analysing conversations. The AI has an action system to respond, this could be an empathetic answer or automatic signposting to find support, or automatic escalating depending on the situation.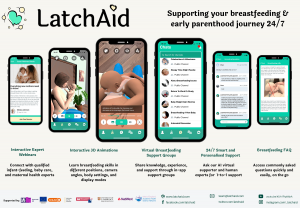 How useful are awards for a startup from your perspective?
The Women in Innovation Award was the deciding reason for me to quit my day job! The £50K prize has given me the security to make the step change, allowing me to pay myself and other people. 800 people applied and 40 women won, so it really gave credibility. Before the award, I would always hide behind grant applications as it's all about LatchAid. This award helped to bring me out as a leader and define myself differently, as they want to know why you are an inspirational role model and how you are solving the biggest societal problems. That pushed me to think very hard about myself; I think I found a new me from that application process. We've really raised LatchAid's profile through that, and with the help of SETsquared and other organisations, we've massively raised our PR game and have recently been featured in over 30 press articles, as well as being featured on BBC Radio Gloucestershire. We've recently won a number of other awards, including MSDUK, which celebrates BAME-led businesses.
If you could do one thing differently whilst founding the business, what would that be?
If there's one thing I would change, it would be to find a co-founder right at the start, as I am a solo founder and find I can be the bottleneck of my company. I think that if you have a complementary co-founder who can share the vision and the pain with you, your chance of survival will be higher. And you'll probably be more supported and credible when pitching. When you're a solo founder you take full liability for the business, which can be a very heavy burden.
What are the next steps for LatchAid?
Our user trial is starting in October, running until January 2021, with 12 NHS trusts and VirginCare. We'll be piloting the app with 5000 new mothers who will be prescribed LatchAid at their 37 week antenatal check-up. This will help us to build a powerful health economic picture to the NHS to become a licensed prescription app, with the mission to make digital healthcare more accessible – especially for women who come from low income and socio-economic backgrounds, and are statistically less likely to breastfeed.
We're looking to raise our seed investment of £500K to grow the product team and work on commercial development. We plan to develop the B2B side of the business to get really good adoption in UK healthcare systems, to sell to all UK NHS trusts, and also break into the corporate market.
We also plan to develop our Android version. Following this we want to expand to international territories. We already have ios users from 20 different countries but want to expand globally to help all women everywhere. Everyone in the LatchAid team are mums that understand the struggle, and we believe that all mothers deserve the support and empowerment to give their child the best start in life.
Find out more about the Breakthrough Bursary here and apply by 8 November 2021. Sign up to the monthly SETsquared newsletter to keep up with news, events, opportunities and more.
Fast track your technology business